15 seconds.  That's how long it typically takes for a buyer to form an opinion about your home, and those first impressions matter.  Because of that, I'm excited to be the certified Staging Design Professional for Wiens & Roth.  I love using my skills and training to help our sellers stage their homes because I absolutely believe that staging works, and that's why it's included as one of the services we offer to truly provide value as the listing agents for our sellers!  You might be asking, what exactly is home staging?  Is it just interior decorating?  In many ways, staging is the opposite of decorating.  While decorating reflects personal style, staging is meant to neutralize personal style and reflect the potential buyer's lifestyle.  Staging Studio defines staging as, "the art and science of improving the marketability of a property."  The goal is to reduce the number of days on the market, while increasing profits.  A Coldwell Banker survey found that staged homes spent half the time of un-staged homes on the market.  Because the National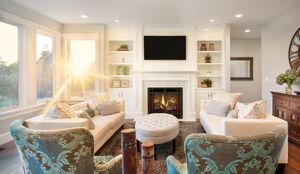 Associate of Realtors has found that the longer a house remains on the market, the lower the price drops, it's important to do everything possible to nail down a contract in these first few days or weeks.  They also found that 71% of listing agents said that staging increases the dollar value of a property, and 96% of buyer's agents said that staging affects the buyer's view of the home.  Staging helps buyers visualize themselves in the home, and what living there might be like!
As listing agents, our primary responsibility is to act in the best interest of our clients. In order to do that for our sellers, we want to use our expertise to help them present their home in the best possible light so that it will appeal to the widest range of buyers.  Staging helps to overcome negative impressions that buyers may have while highlighting the positives and helping them to see the value of the home.  We want them to fall in love!
Maybe you're saying, "Well, that all sounds great, but how exactly does it work?"  Included in our listing agreement is a one-hour staging consultation.  During this consultation I'll do a walk-through of your home on my own (as a buyer would), during which I will take notes and snap a few photos for reference. We'll then do a walk-through of the home together to discuss my recommendations and how we can achieve the best possible results while working within your budget.  Within two business days you will be e-mailed a report that goes over what we discussed as well as any additional suggestions I have for the home. These will be listed in order of priority to help you get your home ready for listing photos and showings.  As a seller it will be up to you as to which of those you follow through with!  You'll also get a showing checklist, a bed recipe (you CAN make your bed look as gorgeous as the ones you see in the Pottery Barn catalog without spending a ton), and a staging checklist.
I was so thankful for this recent review from a client in regards to staging and then the photography of the completed project:
"Melanie was able to stage our home within our budget and maximized spaces in our home that didn't have defined purposes. She helped every step of the way (from paint colors to accessory placement) making our home attractive to buyers. Her professional photography gave our listing an edge over other equally beautiful homes with poor quality photos. We had 12 showings and an accepted offer within one week. Need I say more?" -Margie S.
I look forward to helping you get YOUR home ready to list! Please don't hesitate to call or e-mail me if you have any additional questions about our staging consultations, or the staging process.  We're here to help!