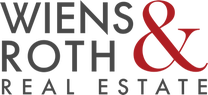 Your Local Boutique Brokerage
The & Means More
At Wiens & Roth Real Estate, we know good customer service is no longer a differentiating factor. Lots of real estate agents and teams can say they are the best. And for that matter, many of them can help you buy or sell a home… and sometimes for less commission. The "secret' at Wiens & Roth is our over-riding passion and determination to always go above and beyond for our clients. It would be our desire for you to know that our team of professionals is passionate about collaborating together and serving as YOUR real estate consultants, and that we pursue all we do with the experience and dedication to help you achieve your real estate goals. We believe that the & in our name means MORE, and that's what we want to offer you.
We continuously dedicate ourselves to making Wiens & Roth Real Estate the favorite real estate team in the metro Toledo area and Southeast Michigan where we live, work, and play.
It is a privilege to serve you and your family!
Included in every listing
With such a valuable asset, the journey to "SOLD" can be emotionally and mentally taxing. We will lead and guide you through the numerous strategic initiatives that must be addressed to pave the way to a successful sale—from digital marketing strategy, remodeling/upgrading, pricing, pre-market exposure, agent outreach, open houses, and so much more. Work with a team that has the tools and expertise to help you successfully navigate through one of the biggest decisions of your life.
Professional Photography
Aerial Drone Photography
Staging Consultation
3D Virtual Tour
Schemantic floor plan
See What All The Buzz Is About
Nothing makes us happier than seeing our clients fully realize their real estate goals.
"My husband and I took a few trips to Michigan to look at properties and we had the worst luck trying to find an agent. Luckily we were connected with Joel Williamson who was ready to jump in and help us. Our timeline to find a property was tight and
…
Joel was understanding of our situation as we were moving from New Hampshire. Joel went above and beyond taking us to look at close to 30 different properties around the Detroit area. It was great getting to see listings up close, Joel had a great eye for property issues and steered us clear of homes with major internal problems. During our interactions it felt that Joel cared about where we were going to live and did not want to just get us to buy any house. Additionally, Joel was incredibly responsive to any text messages or calls we had with questions. When we did find the house we had been looking for, Joel continued to help to ensure that the closing went smoothly. When we had to go back to New Hampshire Joel went to the home inspection and the final walk through of the house on our behalf. Joel is a phenomenal realtor to work with, we highly recommend him to anyone looking for an agent. We would love to work with Joel again in the future!"
"Very professional, gets results, and knowledgeable."
"Excellent service. I very much enjoyed working with Jake Cox. He is extremely knowledgeable and helped me with any and all questions or issues that I had. Which, considering I was a first time home buyer, there were quite a few things I was unaware o
…
f. Very quick to set up viewings, and flexible working around any schedule. I'm very happy with the end result as well. I absolutely love the Condo that he helped me find."
Coffee With us?
We can discuss your real estate goals over coffee. No strings attached, and take it from there.