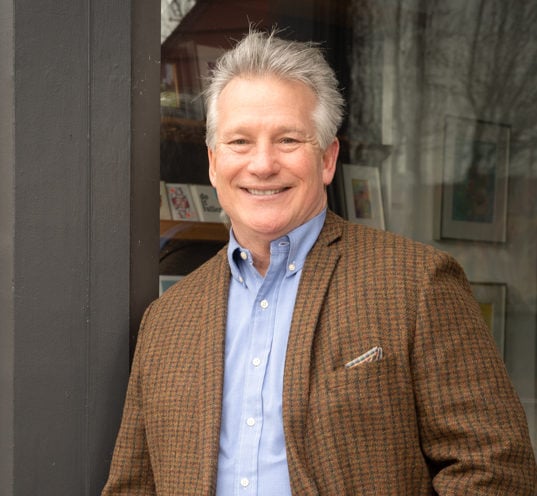 Paul Jacoby
Paul brings 40 years of sales experience to the team. After starting out in real estate in the 80's, he and his wife Debbie, moved out west to establish a new market for The Anderson's of Maumee in their environmental division. After nine years away spent in Arizona and Texas, Paul and his family of 3 missed Toledo and decided to moved back to the area. While in the process of recently selling his home, Paul met our co-founder Aaron. After many conversations with Aaron, he decided to get back to his roots and passion and join the Wiens & Roth team. In addition to his years of sales experience, Paul brings the added benefit of a construction background.
Paul is also an FAA certified drone pilot and provides scanning services to create 3-dimensional models called BIM, Building Informational Modeling, for architects and engineers to complete their renderings and designs for existing homes and commercial spaces.
His best buddy is his dog Carmen, an 8-year-old Bearded Collie and he is a lead singer in the band Hear Now. He is really looking forward to helping you sell your current home, or buy your next one!
See What All The Buzz Is About
Nothing makes us happier than seeing my clients fully realize their real estate goals.
"My husband and I took a few trips to Michigan to look at properties and we had the worst luck trying to find an agent. Luckily we were connected with Joel Williamson who was ready to jump in and help us. Our timeline to find a property was tight and
…
Joel was understanding of our situation as we were moving from New Hampshire. Joel went above and beyond taking us to look at close to 30 different properties around the Detroit area. It was great getting to see listings up close, Joel had a great eye for property issues and steered us clear of homes with major internal problems. During our interactions it felt that Joel cared about where we were going to live and did not want to just get us to buy any house. Additionally, Joel was incredibly responsive to any text messages or calls we had with questions. When we did find the house we had been looking for, Joel continued to help to ensure that the closing went smoothly. When we had to go back to New Hampshire Joel went to the home inspection and the final walk through of the house on our behalf. Joel is a phenomenal realtor to work with, we highly recommend him to anyone looking for an agent. We would love to work with Joel again in the future!"
"Very professional, gets results, and knowledgeable."
"Excellent service. I very much enjoyed working with Jake Cox. He is extremely knowledgeable and helped me with any and all questions or issues that I had. Which, considering I was a first time home buyer, there were quite a few things I was unaware o
…
f. Very quick to set up viewings, and flexible working around any schedule. I'm very happy with the end result as well. I absolutely love the Condo that he helped me find."